As we don't have any allocated parking, we encourage using public transport, Uber or a taxi where you can. There is street parking in the area, however, some days this can be hard to come by so, if driving, it pays to allow extra time to find a park. A paid public car park is around the corner at 25 Altham Ave.
Occasionally an event at Eden Park means McDonald Street is closed for parking but parking can still be found along Taylor's Ave and toward St Luke's. Please keep an eye on the Eden Park website just in case you need to let your guests know.
We tend to think of Glasshouse as an outdoor venue – but with a built-in wet weather plan.
In January and February it can get very warm in the venue so we insist on 4pm as the earliest guest arrival time. We would still recommend a 4pm guest arrival throughout the warmer summer months – this is our usual guest arrival time anyway.
In the winter months, we have heaters to warm the venue but it can still feel cooler on chilly days. In winter we recommend that you dress as if you are attending a winter event – so bring something warm!
Our wonderful team will oversee the set up of the venue for you as discussed with your event coordinator. We will position our furniture, set the tables and make sure everything is in place as per the run sheet we have created with you.
We only take one event each day, and the venue will be available for your set up from 10am. This is when any external suppliers you have booked (such as florists, lighting, AV) or friends dropping seating plans, menus and the like can come and work their magic.
Of course! If numbers are 100 or less, we can have both the ceremony and reception all in the one space. We recommend looking at a greenery partition or drape to split spaces in this case.
If numbers are over 100, we will need to do a room "flip". This means sending your guests away to one of the other lovely venues around Morningside so we can change the room from ceremony to reception setup. This normally takes around 1.5 hours to flip the room. We recommend Morningside Tavern where we can provide canapés or alternatively Kind Café and Crave are great too!
All furniture, hireware and AV/entertainment will need to pack out that night so we can water blast and clean the venue overnight.
Small items like florals, gifts, and leftover BYO can usually be picked up the next day at a time arranged by your venue coordinator.
Our sound system is perfect for ceremony music, and speeches during the event. Should you wish to have more than basic background music, we recommend booking a DJ or band for your event. Unfortunately we can't have subs or acoustic drum kits in the venue however electric drums and hand drums are fine!
Auckland city noise restrictions kick in at 10pm so our team will work with your entertainment on the night to make sure the levels are perfect and following the limits set.
If you are having work done at heights you will need to hire an approved supplier to do this work for you and we will require the appropriate health and safety documentation.
Our trees are very precious to us and we do not allow any decorations on them.
Candles are absolutely fine as long as they are in jars or holders with wide trays to catch dripping wax. We cannot light candles if the wax will drip onto our tables or linen.
You are very welcome to use natural flower petal confetti (dried or fresh) as part of your celebration. No other form of confetti such as paper, rice or plastic is permitted in the venue.
No fixtures are to be used in the venue ie. nails, tap, tacks, glue, double-sided tape. Nothing can be attached to the wooden doors.
Please opt to use our beverage menu – just let us know your bar tab limit.
You are also welcome to BYO which is charged at $28 per adult attending your event. You will need to hire glassware additionally. BYO is beer, wine, spirits and non alcoholics but no RTDs please.
The latest time for the bar to close and band/DJ to finish is 11.30pm, with guests exiting by midnight.
If you opt for BYO, you will deliver all the beverages for your event (including non-alcoholic options) on the morning of your event.
If a drink runs out during the course of your event, our licensing does not allow you to leave the event to purchase more, so please provide sufficient amounts.
If you would like us to provide glassware we can do so at an additional cost, with cocktail glassware being extra depending on the number and style of cocktail.
Our staff will still take care of the service of your BYO beverages.
Absolutely! Rehearsals are incredibly helpful for us all and we will arrange a time for yours in the week leading up to your special day.
At the rehearsal, we will go through your run sheet together one last time and practice your bridal/groom entry with the music for your ceremony.
You can invite your celebrant along or alternatively, you might catch up with them off-site at another time.
We need to schedule rehearsals around our busy event calendar so we usually wait until the month before your wedding before penciling a time in when the venue will be quietest for you. We find rehearsals work best with fewer attendees. We recommend keeping the number of attendees at your rehearsal to those with an active role in the ceremony (for example, those in the bridal party, anyone walking down the aisle, parents and your MC).
We have a friendly, experienced team who are there to assist you in planning and delivering a magical day!
Our event coordinator will work alongside you in the lead-up to your wedding to build a run sheet detailing your suppliers and timings for the day. We will also put together a specific floor plan for you. Your event coordinator will be there for your rehearsal and on your wedding day to ensure that everything is set up as planned for your ceremony.
Once the ceremony is complete our duty manager – the pro at food and beverage service – will take over the smooth running of your special day.
Here is a helpful list of other items and suppliers you would / might consider organising externally. Please keep us updated with what you arrange.
Celebrant
MC
Band / DJ / hired speakers (required if you intend to have a dancefloor)
Florist
Styled lighting / draping (contact our preferred supplier La Lumiere)
Greenery partition (please let us know if you would like us to book this for you)
Cocktail furniture (please check quantities with us before confirming with your supplier)
Welcome sign and seating plan (you are welcome to use our easel for this)
Place names
Menus
Favours
Photo booth
A room flip is when we 'flip' the room between your ceremony and reception, changing from your ceremony set-up (with chairs facing the ceremony) to your reception set-up (with dining tables in position for you to enjoy your meal).
A room flip is required for all seated-meal receptions when you have over 60 guests. Sometimes when you have fewer than 60 guests you might also do a room flip if you prefer to have the dining tables away for your ceremony.
If you have over 100 guests we require you to exit the venue for your room flip. We can recommend booking this with one of our lovely neighbours such as Morningside Tavern or Kind Cafe – you would need to book this directly with them.
Usually, a room flip takes about 1.5 hours (with the venue completely empty of guests) but more time may be required if you have more complex table arrangements and/or larger guest numbers. We recommend having a greenery partition or drape when you remain in Glasshouse for a room flip – see below for a layout example.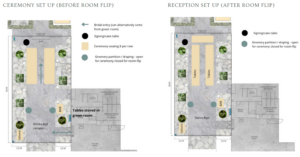 A greenery partition is a lovely line of luscious pot plants that acts as a screen between your guests and our team as we reset the room for your meal after your ceremony. We recommend a partition when you have 100 guests or fewer and are flipping the room after your ceremony. It would not be required for over 100 guests as you will be exiting the venue for the room flip.
As your guests enjoy their celebratory drinks and canapes at one end of the venue, we pull the greenery partition across before we bring out and set the dining tables at the other end.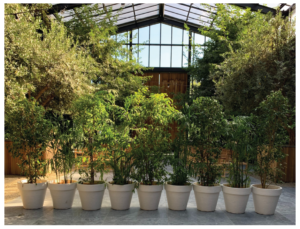 The drape performs the same role as the greenery partition, opening and closing at different times to divide the space and acting as a screen as we re-arrange the room after your ceremony. It is a lovely alternative to the greenery partition and you would book this directly with La Lumiere.
They have either a full height drape which is attached to the beam on our ceiling, or a drape on a frame. For a sit down meal with a room flip with over 80 guests you would need the drape on the frame.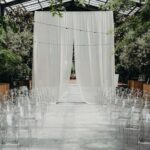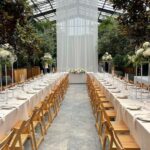 Food is an incredibly important part of any event and we will work with you to advise you on the amount of food your guests will need based on your event timings.
Yes, we do!
You can book a site visit with us by clicking the below link.